Global and Sacral Harmonizing
The Equinox Gateway was a powerful alignment to begin bridging our Yin and Yang polarities from Duality into Oneness. [More on the Equinox here. More on 3D to 5D here.] This process involves harmonizing our polarities together: yin/yang, within/without, masculine/feminine, light/dark, active/receptive, electric/magnetic, self/Self, etc. All of these are becoming One.
Union is happening within Gaia, as well as within each one of us. We hold Duality in our bodies in the Sacral and Solar Plexus chakras. The Eclipse aligned the Solar Plexus [link], so the Sacral Chakra is next.
The Sacral Chakra is our Sexuality—Masculine and Feminine. As we move into Unity Consciousness, it is no longer useful to have this separation within us. In fact, it cannot sustain itself. This chakra is being Harmonized into Unity. Both Yin and Yang will exist in this chakra no matter the gender. It is not that gender is going away, the same way all polarities are not going away. Instead, think of them as both existing in perfect Harmony, flowing with each other, so they now seem as one.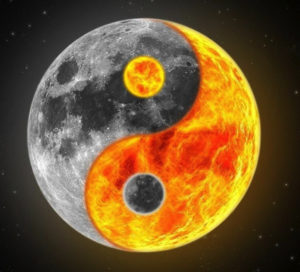 Many are already feeling this intensely and this Global Harmonizing will continue and amplify through the Full Moon in Aries. This process is ongoing within and without until each one of us is fully balanced and flowing together in harmony.
For any energy work, it is essential to drink plenty of water and help the physical body detox the old energy. This is especially true with the Sacral Chakra because it rules the Kidneys that help us detox, and it also rules the Water Element.
Be gentle with your body in this time and give it what it needs. Do not try to do what you have always done in the past. We are moving into an entirely New way and the physical vessel is very different. Allow your body, mind, and soul to be tuned to the New. We are integrating our opposites together in mass.
Soul Alchemy of Jupiter in Scorpio
On October 10, 2017, Jupiter is moving into Scorpio until November 8, 2018. Scorpio is the Darkest Dark, the Lightest Light, and the Power to Transcend Both. For the next year, we are expanding themes of relationships, sexuality, alchemy, shadow, Kundalini, awakening, ascension, and transformation.
After the Equinox Harmonizing, we moved into an intense Virgo stellium that purged and cleared our systems, then right into a Libra stellium that is balancing our polar opposites. We will really feel all of this work when Jupiter moves into Scorpio and is joined by the Sun later in the month. Like Alchemy, our opposites of Fire and Water will be poured back and forth until we have been made into FireWater. Our opposites will be merged, swinging from extreme to extreme, until they are One.
Jupiter in Scorpio will also be a time of great abundance for those who have long been on the path and following their heart's purpose. Scorpio rules wealth, like its opposite sign Taurus. This will be an abundant time for those who are already balanced within, while it may be quite challenging for those who have resisted their heart's calling up to this point.
It is all for the greater good. For those who are struggling, keep working to heal and transform. Work through your Shadow and Trauma one step at a time. You are fully guided and never abandoned. Reach out to those who have gone before for help if you need. There is so much support here and everyone is capable of this process. We are all in this together.
Finally, there are higher and lower aspects in Astrology and no sign reveals this better than Scorpio. It's lower aspect is the Scorpion and it ascended is the Eagle. By the time Jupiter is done in this sign, we will all know what it means to transcend our mundane tendencies and become Eagles.
Harmonic Convergence
The Harmonic Convergence was a global prayer on August 16, 1987, where 144,000+ Lightworkers gathered in sacred sites around the world for peace. These types of globally unified actions are always significant. Source has seen and heard the prayer. [I cry even as I write this in pure joy and relief.]
This year on August 16, we passed the 30th Anniversary of the Harmonic Convergence and this 30 is an important marker. Like a Saturn Return, it means that we have been mastered and the Harmonic Convergence has been Actualized in our reality. This is part of what we are experiencing in the Now.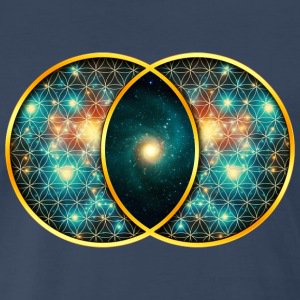 In Sound, when two different notes are played at the same time, they create a Third Tone, called a Harmonic. This is also how binaural beats work. We are unifying duality in the harmonic of Christ Consciousness (the Third Tone) by bridging Heaven and Earth. A Vesica Piscis illustrates this same concept. Two becoming One and forming a new Third Energy.
We are becoming One, but do not fear losing your individuality. The same way two tones are both played, but the third is created, we will each live our full, sovereign purpose and sing our clear tones together and this will create beautiful chords, known as the Harmony of the Spheres.
A guitar is tuned
By pulling and stretching strings
Into Harmony.
Allow yourself to be Tuned.
Love, Wisdom, Power
—October 4, 2017
[Header image = Public Domain
Yin Yang image: Source Unknown
Vesica Piscis image: Source Unknown]